Preparing your child for a sibling
<![if gt IE 6]>
<![endif]>
One of my favourite natural parenting bloggers is Lauren from Hobo Mama. I've been following her tweets and posts about her pregnancy with Baby #2 and know she has been doing a lot of thinking and researching. When I was planning my March guest bloggers, having Lauren post about her preparations for bringing a second child into their family came to mind immediately. I knew that she would be great at covering this topic and she more than came through on that. Her guest post is both a wonderful story of their family's journey and a resource rich library for any parent going through this same experience. Please welcome Lauren to the blog.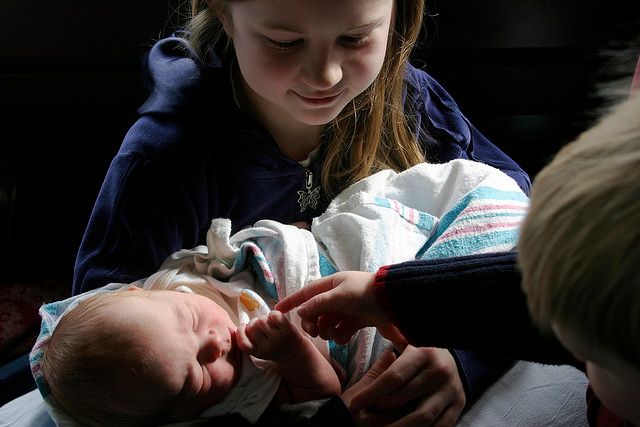 I am in the third trimester of pregnancy, awaiting our second baby. Our first child, Mikko, will be turning four years old just about the time our baby arrives. Since we're planning a home birth, we've spent a lot of time prepping Mikko for what to expect, and making our own plans for how to arrange the logistics of the birthing time.
Here are some of the aspects of birthing we've gone over with Mikko, along with the resources that have helped our family prepare. Many of these were suggested to us by others (some very frequently and passionately), so my thanks to Annie of PhD in Parenting, her friend Elizabeth, and the commenters, Tweeters, and Facebookers at Hobo Mama.
Explain pregnancy in general
No matter what age your children are, pregnancy is a fantastic time to talk about where babies come from and what they can expect when you're expecting. I've been glad to have such a natural segue into early sex education. At three years old, Mikko was ripe for talking about genitalia and learning new vocabulary. Sometimes he learned it very loudly. In public. But his enthusiasm was undeniable.
You'll have to tailor your lessons to your audience: Young toddlers might grasp only the basics. Preschoolers like Mikko will find the whole process fascinating but not understand it completely. Older children (I was 9 when my brother was born, for instance, and my older brother was 13) will appreciate more advanced knowledge and perhaps some frank talk about their own sexuality. And if your baby was conceived or will be born in a less conventional way, this is an opportunity for you to talk about the specifics of your family's experience, also at a level that works for your kids.
Here are some books that helped spark discussions of conception, pregnancy, and birth:
Start talking about the birth
Since we're planning a home birth, the possibility that Mikko would want to be present meant we needed to prepare him for the sounds and sights of labor. Even if your birth plans include not having your children present, they'll still likely be curious exactly how that baby gets out, so you can talk about your particular situation.
Since we'd introduced the vocabulary of pregnancy, it was an easy step to continue explaining vaginal birth. I've explained the work and possible noise involved to Mikko in a way he can connect to — it's like pooping. I think he got that analogy!
You might also try role playing the birth with a doll and a playful attitude, mimicking and laughing together over the silly sounds you might make in labor, and showing your children their own birth videos and photos.
For us in particular, Mikko unfortunately had a bad dream about birth right before I was planning to start talking about it with him. We had been at my in-laws' when he first asked, and I felt awkward saying "vagina" around my father-in-law so hedged and decided we'd talk more when we got home. Too bad I was squeamish, because Mikko had a dream about bubbles and a big gash, and now anything I say about birthing probably doesn't sound any more reassuring! I would advise talking about birth early, then, so you can put in positive messages before they imagine their own scenarios.
Here are a couple books that helped describe or show birth. I would love to find more that are geared toward children, if anyone has suggestions!
Watch some gentle birth videos together
To try to assure Mikko that birth can be satisfying and calm, I sought out birth videos of gentle, natural birth — the kind of birth we hope to have, and that we (for the most part) had with Mikko. I use Hypnobabies birth hypnosis, so I was pretty mellow during my long labor with Mikko and hope to be again this time around. If you're a screamer and really want to prepare a child, you might need to find some more active, vigorous births to show. With a sensitive kid, I thought it was best to aim for soothing — to show the function of birth without added drama. Note that very few mainstream television shows or movies tend to show birth in a positive light, and internet videos vary greatly in birth outcomes and helpfulness, so you'll want to screen your selections carefully to make sure they won't unintentionally disturb your children.
Here are some videos we enjoyed. I enjoyed them more than Mikko, but he was still intrigued by it all!
See how other mammals do it
One thing I found immensely comforting during my pregnancy with Mikko was to watch animal birthing videos. Animals tend to be very quiet and matter-of-fact about birthing — at least, in the videos I've seen. As you're explaining that birth is normal for all mammals, your children might enjoy seeing that truth for themselves — either in video form or, if you have the connections, possibly even firsthand at a farm or with a pet.
Here are some of our favorite animal birthing videos online:
Tell your children their birth stories
One way we've tried to make birth real and personal for Mikko is to talk about his birth. This hasn't worked so well for us, because Mikko insists he's a big boy and doesn't want to go back inside my belly. Oh, trust me, Mikko, not going to happen! For him, then, I've focused on just the feelings I had when he was born — I've told him how happy we were to meet him for the first time, and how it felt so good to push him out (because it did!).
And for children old enough to understand that their birth happened in the past and you're simply recounting it, a detailed but positive birth story might be just the thing they need to see that every birth is special.
Here are some books that relate birth stories and might give you an idea for how to make a ritual out of the telling:
Figure out your birth plan — for your older children
Mikko has made me numerous signs lately, with cryptically written but pointed messages. "This one say 'Baby stay in,'" he says, pointing to a random scribble. Well, OK, then.
Given his resistance at the whole idea of seeing a birth, we're honoring his requests not to be present. This means setting up a series of childcare and backup plans, starting with family and moving on to those friends who might not mind being woken up in the wee hours of the morning.
If you're having birth in a different location and don't expect to have your other children present, you'll need to arrange childcare, as well as some backup possibilities, at your home or your sitters' home.
If you're having a home birth, as we are, you'll need to talk over with your children (if old enough to have an opinion) whether or not they wish to be present — and then create backup plans that will allow the opposite to happen if they have a change of heart.
Even if your children say they want to be with you during the birth, or they're young enough you think they won't care either way, it probably is best to have someone there to support them in particular — perhaps a grandparent, other close relative, or trusted friend — in case things become intense and in case your partner, if you have one, is busy caring for you. You'll want to be able to focus on giving birth, so having someone around for them can be invaluable: someone who can answer curious questions, offer activities or a walk outside, give them a place to watch from where they're out of the way (and possibly out of the line of sight of anything too graphic), and potentially even remove them if you or they decide it's necessary. Some people can go inward during labor and birth and not mind any distractions — and some people become agitated if the atmosphere is not in perfect calm. Your children, in particular, are apt to distract your focus, since you're used to paying attention to them. Try to gauge beforehand whether a busy or a quiet birthing appeals to you, and make arrangements for that scenario — as well as a backup or two in case it turns out you're mistaken!
Since Mikko definitely doesn't want to be present, our current intention is to keep him with us in the early stages of labor, before he would start feeling uncomfortable, and then have Mikko's aunt come over for the rest of the birthing and keep him occupied downstairs while the action takes place upstairs. That way, my partner can stay with me most of the time but can check in with Mikko occasionally. And, if Mikko decides he needs Mama in particular, he can poke his head in and see if the birthing environment is as scary as he thought. Plus, he'll be around to see his new sibling right after birth, which makes me weepy just thinking about it. (Then again, I'm pregnant.)
Our backup plans include having his aunt take him to her house, having a list of friends on call who could come over here or take Mikko with them, and — if circumstances and middle-of-the-night timing allow — having Mikko sleep through the whole dang thing. Our childcare backup plans will also apply if there's an unexpected hospital transfer.
If you don't have family and friends nearby, another idea is to hire your childcare. A suggestion given to me on my post asking for advice on just this topic was to consider hiring a doula. I had no idea doulas would consider babysitting, but I like the thought: A doula would certainly be used to being called at all hours and staying put for a long labor. Plus, if your partner takes a break from tending to you to tend to your other children, the doula could easily pinch hit as an alternate birth partner during that time. If cost is a problem for your family, consider asking a midwife for recommendations of a doula in training, who might offer a reduced rate. (Of course, doulas are worth every penny if you can afford one!)
Speaking of partners, that's another possibility. I prefer to have Sam stay with me during the labor and birth, because he was so supportive last time. However, if you have a partner who would do better staying with your other children rather than you, that could be a very simple way to handle the childcare. If you need birthing support, you could then hire a doula or invite a friend or family member over for yourself.
The only sure thing to remember in all this planning is that things rarely go to plan. So do what you can beforehand to prepare, but then stay flexible, and trust that you and your support team will make the right decisions as they come up.
Hear what others have done
Sometimes the best thing is to hear from other parents about what worked and didn't work for them. Ask the other families you know what arrangements they made, and whether those arrangements worked as planned. Ask for their tried-and-tested suggestions of ways to prepare children for childbirth as well.